All Creatures Animal Hospital
All Creatures Animal Hospital is a full-service veterinary medical facility conveniently located just one block west of Marianos in Lake Zurich, IL. The professional and courteous staff at All Creatures Animal Hospital seeks to provide the best possible medical care, surgical care and dental care for their highly-valued patients.
We are committed to promoting responsible pet ownership, preventative health care and health-related educational opportunities for our clients. All Creatures Animal Hospital strives to offer excellence in veterinary care to Lake Zurich and surrounding areas.
Please take a moment to contact us today, to learn more about our veterinary practice and to find out more information about how All Creatures Animal Hospital can serve the needs of you and your cherished pet.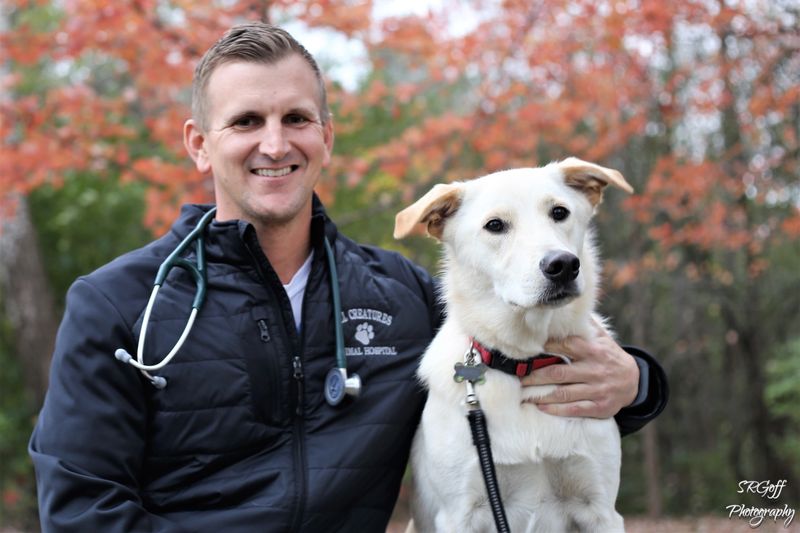 Dr. Jay Nordstrom
Dr. Nordstrom joined All Creatures in 1996 after graduating from Michigan State University. He enjoys all aspects of veterinary medicine, including complex medical and surgical cases.
His fields of interest and expertise include abdominal and cardiac ultrasound, endoscopy, soft tissue and orthopedic surgery, pain management and preventative medicine. Dr. Nordstrom takes great satisfaction in helping pets achieve and maintain wellness and enhancing the human/ animal bond.
At home, Dr. Nordstrom is married with two children. They share their house with a rescued King Charles Spaniel named Dewey. In addition to being an instrument rated private pilot, Dr. Nordstrom enjoys time with family and friends and struggles mightily with a golf addiction.
Years in Practice: 23
Email: info@allcreatureslakezurich.com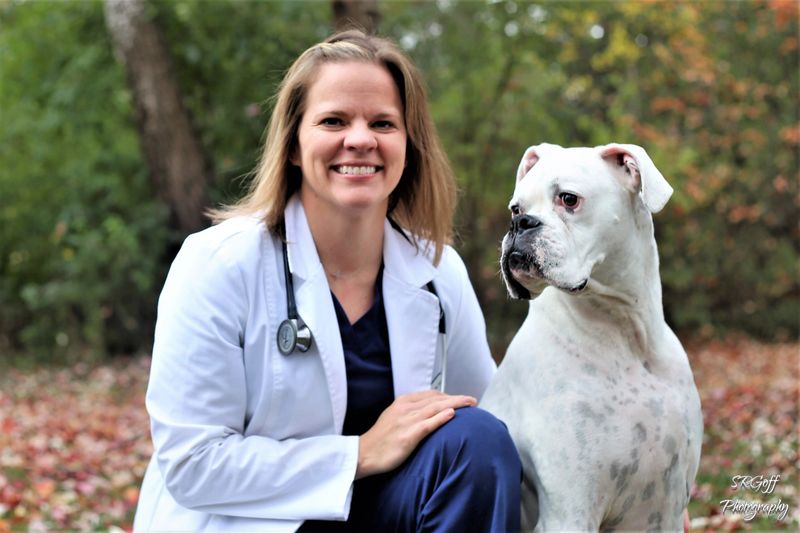 Dr. Erika Dahlgren
Erika Dahlgren joined the All Creatures Animal Hospital team in the summer of 2006. She graduated from The University of Illinois College of Veterinary Medicine in 2005 and them completed a surgical/internal medicine internship. She continues to enjoy the daily challenges veterinary medicine brings and the uniqueness of every case. Erika is married to a computer genius, Bill, and they have 3 children and 1 four legged kid, Stanley. Outside of work she enjoys traveling, playing volleyball, skiing and spending time with family and friends. Originally from Wisconsin, Erika is a loyal Green Bay Packer fan, despite much opposition from her fellow Bear fan coworkers.
Years in Practice: 14
Email: info@allcreatureslakezurich.com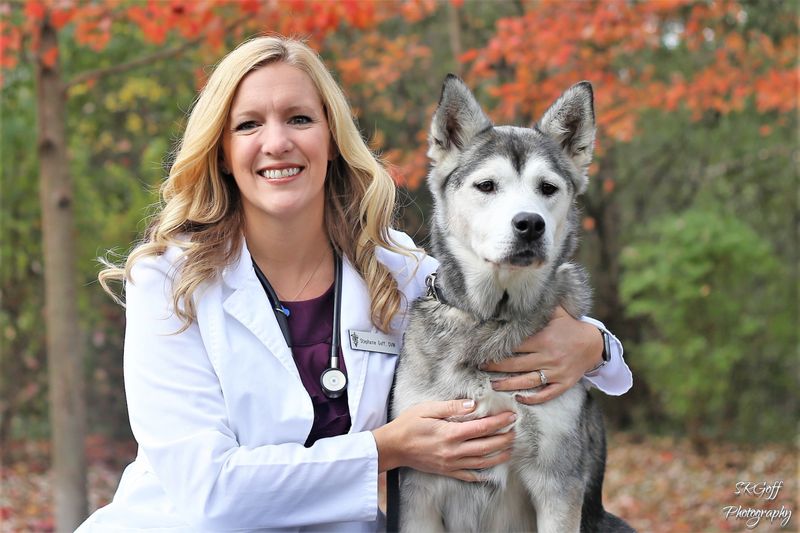 Dr Stephanie Goff
Dr.Goff grew up in Mundelein, IL and competed in agility as a junior handler growing up. She attended the University of Iowa and received a bachelor's of science in psychology in 2007. A month before graduating from undergrad, she started working as a veterinary assistant at a busy private practice on Saturdays for fun. She loved it and it quickly turned into a full time job and Stephanie was encouraged to pursue her childhood dream of becoming a veterinarian.
She moved back to the Chicago suburbs and worked as a veterinary technician at an emergency and specialty clinic while taking a few remaining pre-requisite classes for veterinary school. Dr. Goff graduated from the University of Illinois College of Veterinary Medicine in 2016 and completed a one year small animal surgical and medicine rotating internship in the Chicago area.
Dr. Goff and her husband Steven have a husky mix and two friendly cats that think they are dogs. In her free time, Dr. Goff enjoys playing board games, reading books, watching movies and enjoying the great outdoors - hiking/exploring new areas, camping, biking, kayaking and boating.
Email: info@allcreatureslakezurich.com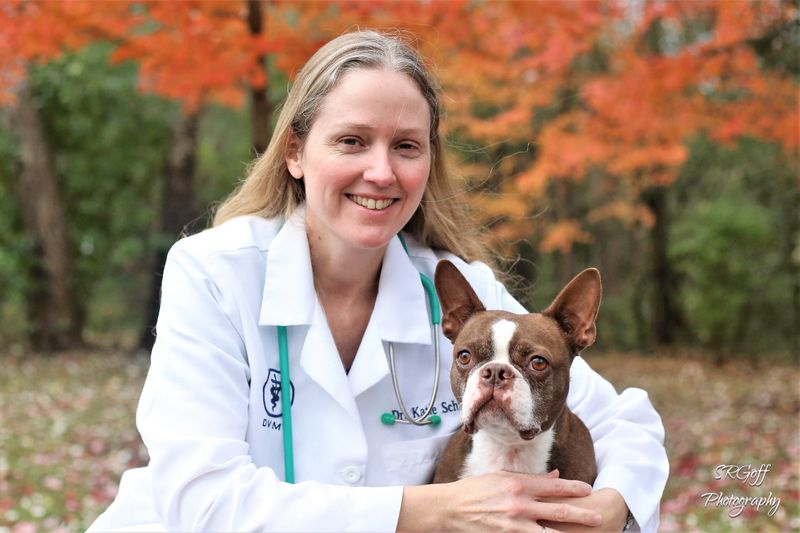 Dr. Katie Schreurs
Dr. Katie Schreurs grew up in Nebraska and attended University of Nebraska for her undergraduate degree. She went on to veterinary school at Kansas State University, graduating in 2004. She joined All Creatures Animal Hospital in 2007.
She has always loved animals, and dreamed of working with them since she was a little girl. She currently has two Boston terrier rescues named Clifford and Walter, and one rescue cat named Hank. Hank was a rescue in the truest sense of the word as he was found freezing in a snowbank as a kitten with burns all over his back. It was suspected that he got too close to a motor or muffler trying to stay warm during a particularly cold winter. His burns were infected and he needed two surgeries and many bandage changes for his back. But he made a full recovery and is fat and happy despite his scars.
Katie and her husband Peter have two little girls, Greta and Libby. Between work and a young family there's not a lot of time for anything else, but given the chance Katie enjoys reading and getting together with friends and family.
Email: info@allcreatureslakezurich.com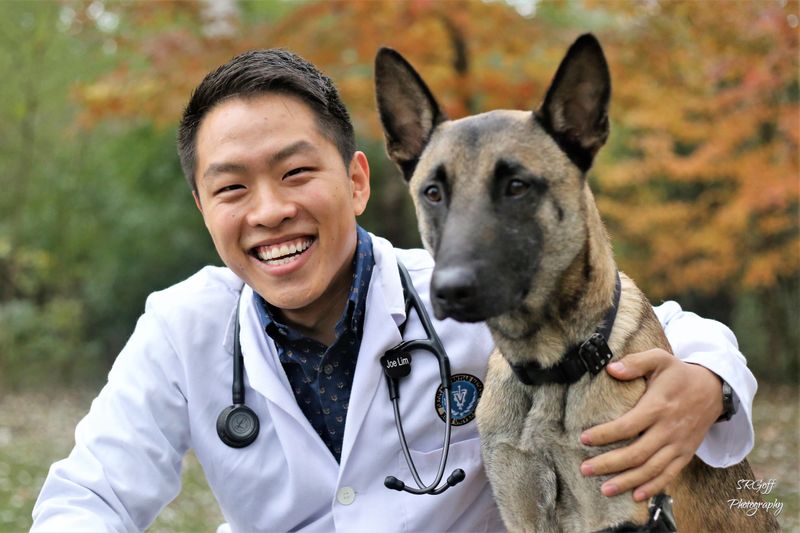 Dr. Joe Lim
Dr. Lim grew up in Glenview, IL and went to Glenbrook South High School. He had his humble start as a kennel worker at River Trails Animal Hospital. After graduating from Illinois Wesleyan University in 2012 he was hired as a technician with Dr. Nordstrom and the rest of the crew at All Creatures Animal Hospital. Here he was able to develop not only professional interest and a passion for veterinary medicine but meaningful mentors and friends.
After Dr. Lim's first year in veterinary school he was accepted into a veterinary masters program in Grange, Ireland. Here he worked on a genetic study looking at the biomechanics of disease in Holstein cows. But in his free time he was sure to check out the local pub for a pint of Guinness. After completeing his pre-clinical studies at Ross University School of Veterinary medicine, he was accepted into Colorado State University School of Veterinary Medicine for his clinical year.
Dr. Lim currently lives in Glenview with his recently adopted amputee dog from Colorado named Jesse James. In his free time, Dr. Lim likes to backpack in the back-country, snowshoe, bike and travel.
Email: info@allcreatureslakezurich.com
Dr. Linda E. Lapin
After graduating from Iowa State University's College of Veterinary Medicine in 1982, she moved to Illinois to begin her career as an associate veterinarian in Wilmette. Dr. Lapin remained an associate veterinarian until 1991, when she purchased a private practice in Barrington which she owned for 10 years. She continued to move west to Algonquin where in 2001 she established a new clinic, All Paws Veterinary Clinic, LLC and sold in 2017. Outside of veterinary medicine she enjoys traveling, bicycling and hiking with her dogs. She lives with her four-legged friends, a German Shorthaired Pointer, Mr. Chips, a Domestic Shorthair cat, Louie and a Whippet, Jumpin' Jack Flash.
Years in Practice: 38+
Email: info@allcreatureslakezurich.com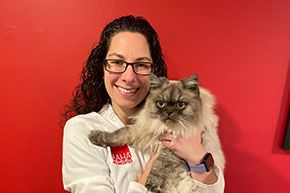 Dr. Jessica Manassa
Dr. Manassa grew up in Crystal Lake, IL and graduated from Illinois State University in 2011 with a Bachelor of Science degree and then went on to graduate from Michigan State University's College of Veterinary Medicine in 2015. After completing veterinary school, she moved home to Crystal Lake to be closer to family. Immediately following veterinary school, Dr. Manassa began working for a large corporate veterinary hospital concentrating on preventive medicine. After one year, she moved on to work for a private practice where she gained significant knowledge and experience in more complicated medical cases. Dr. Manassa's veterinary interests include behavioral medicine, preventive care, and endocrine/hormonal disorders. She has completed her Fear Free certification, which gives her the tools and techniques to limit fear, anxiety, and stress in her patients at every appointment. She believes in outstanding patient care and open and honest communication with her clients. When not at All Creatures Animal Hospital, you can find Dr. Manassa at the barn riding her horse, at the Crossfit gym completing a WOD, or at home practicing her flute and guitar. She also is slightly obsessed with her Onewheel (electric skateboard). She has several pets including a horse (Lexi), ferret (Sophie), and two cats (Purdue & Chief).
Email: info@allcreatureslakezurich.com